TRILAB 3D printing solutions and DeltiQ 2 printers are in the lab at home
Th, 1.10.2020
| Original article from:
TriLab
The DeltiQ 3D printer will become a great help in your research project. Whether it's simple holders or specialized components.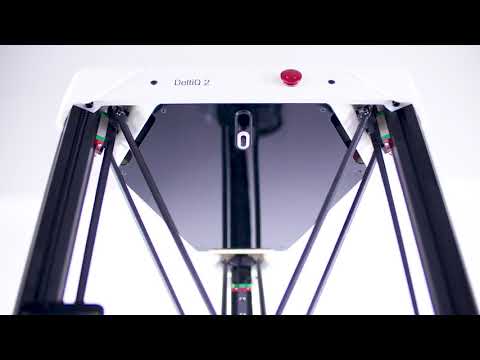 TriLab: TRILAB DeltiQ 2 3D printer
The TRILAB DeltiQ 2, 3D printer from the Brno-Hradec Králové company TRILAB is a high-quality 3D printer from the so-called pro-sumer segment of the desktop 3D printer category. It is a printer completely developed by TRILAB, designed and built only from high-end components. Its hardware and software is adapted and tuned for short, but also multi-day prints even without the presence of an operator. Thanks to the remote-control software and the built-in camera with lighting, the user is constantly in control of printing. Also in the case of ambiguity, question or problem, the printer is immediately remotely diagnosed by the TRILAB service team.
Thanks to the technical and application support of the TRILAB team and also thanks to the many years of experience of the two main partners of TRILAB in the field of science and research, where Dr. Vojtěch Tambor is originally the leading researcher in the laboratory of the Center for Biomedical Research (CBV) of the University Hospital HK and Dr. Michal Boháč is a former director of Bruker s.r.o., every scientific customer is always perfectly professionally secured and can thus focus only on solving their own challenges and projects.
Thanks to practical experience with placing 3D printers in research laboratories, TRILAB also knows very well that the DeltiQ 3D printer does not only allow its owners to save time and money in producing things that are familiar and hard to reach, but also and above all to create and quickly test completely new things, not yet discovered. In addition, it allows them to be pampered by the quality of the printing surface, spatial accuracy, huge print volumes or even just the grace of delta kinematics movements. In addition, the customer does not have to buy the printer as an investment, but can rent it or cleverly buy it under an initial operating lease with a possible subsequent purchase. This not only divides the financial costs of its acquisition over a longer period, but also avoids possible lengthy approval processes for investment purchases.
The DeltiQ 3D printer will become a great help in your research project. Whether it's simple holders or specialized components, with a 3D printer you can save not only most acquisition costs, but also a lot of time spent looking for a suitable tool. In addition, you can create tools that you cannot buy as they do not exist! And besides tools, you can also create your own prototypes, products or their models and replacements.
**The story of NenoVision: Thanks to 3D printing, our microscope can be touched safely **
NenoVision is a start-up originating from the Central European Institute of Technology CEITEC and is one of the incubated companies in the South Moravian Innovation Center JIC INMEC. They are proud that their LiteScope microscope is the only one in the world that can combine data from an electron microscope and an atomic force microscope in detail and assemble them into 3D models. It literally opens up a new dimension of research.
TRILAB: NenoVision - model of LiteScope microscope printed on the TRILAB DeltiQ printer
The company found the application of 3D printing in solving the problem of how to enable the "touch" of the microscope to partners, customers and the professional public: "LiteScope normally works in a controlled environment, moreover in a vacuum, and it is a sensitive and very expensive device. Therefore we or our distributors cannot normally carry it to all events and exhibitions, nor provide it to our partners for tests for insertion into their machines," explains Jan Neumann, the owner and CEO of NenoVision.
TRILAB: NenoVision - model of LiteScope microscope printed on the TRILAB DeltiQ printer
Machining the individual components of the microscope itself is so expensive that even making a copy of the instrument without "living" components does not make sense. In the end, 3D printing proved to be an elegant solution: "Since the complete 3D model for production was already ready, it was enough to prepare and print it on a TRILAB DeltiQ printer and the model of the device in perfect quality and accuracy was born. In this way, it can be easily reproduced and shown to customers and the public at a fraction of the normal cost," adds Jan Neumann.
**BIOCEV story: Own online nanospray built in a few days? **
The story of Dr. Petr Novák from BIOCEV shows the second group of 3D printing options. Building something that does not exist, that you cannot buy, and you know what it should look like and you need it. Dr. Novák's team happened to be in exactly the same situation. Commercially available nanosprays did not meet the requirements not only in terms of compatibility with available spectrometers, but also in terms of real sensitivity, essential for measurement. That's why the "Do it yourself" mode came into play. Thanks to the clever use of 3D printing, a nanospray was created, which has ncomparably higher sensitivity and operator comfort compared to all commercial devices available on the market.
TriLab: BIOCEV - online nanospray
TriLab: BIOCEV - online nanospray
**The story of the MALDI-TOF plate suitable not only for affinity chromatography **
As part of the projects of AffiPro, a spin-off company under BIOCEV Prague, it has been running for several years under the leadership of Dr. Petr Novák and Dr. Petr Pompach for the development of clinical applications of affinity chromatography on MALDI-TOF spectrometry, for example MALDI Biotyper devices, by patented application of various antibodies to MALDI plates using the so-called soft ion landing technology. Although this is a technology that is just beginning and commercial use is yet to come, they already have several very interesting surfaces on their own chips in the laboratory, which will be interesting in the future not only for clinical and veterinary, but also for military screening. And thanks to the use of 3D printing technology, they have the opportunity to print not only different surfaces and shapes, but also to use different materials on MALDI chips and thus, for example, increase the sensitivity and detection limits of the method.
TriLab: AffiPro/BIOCEV - MALDI-TOF chip for affinity chromatography
The original article Three-Dimensional Printed Target Plates for Matrix-Assisted Laser Desorption/Ionization Mass Spectrometry ke stažení.